Tawlbwrdd

Ruleset: Cyningstan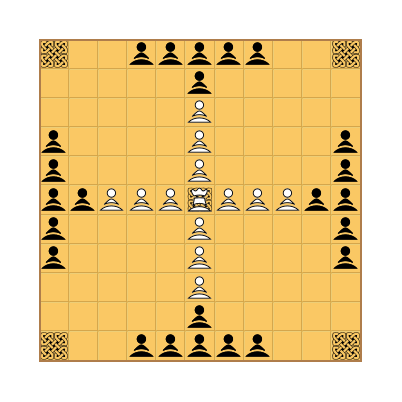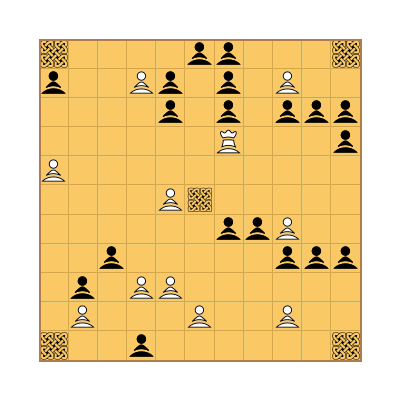 Game
See the game Tawlbwrdd for more details.
Period(s)
Modern
Summary
Rules from Cyningstan.
Description
These rules are suggested from the website cyningstan.com, which are based on the rules known from historical sources and an assumption that it is related to the game Tablut described by Linnaeus.
Rules
11x11 board. The king is placed in the centre of the board, with his defenders around him and the attackers at the edge of the board. The attackers move first. Pieces move orthogonally any number of spaces. A pieces is captured by surrounding it on two opposite sides, by an opponent's piece. It is possible to capture two or three pieces at once by so surrounding them. It is not possible to capture a row of pieces. The defending player wins the game by moving the king to any square on the edge of the board. The attacking player wins by capturing the king.
Concepts
Browse all concepts for Cyningstan here.
Reference
Other Rulesets
Identifiers
DLP.GameRulesets.405