Cumisitha
(Cumisiña )
Ruleset: Cumisitha (Ludii 14)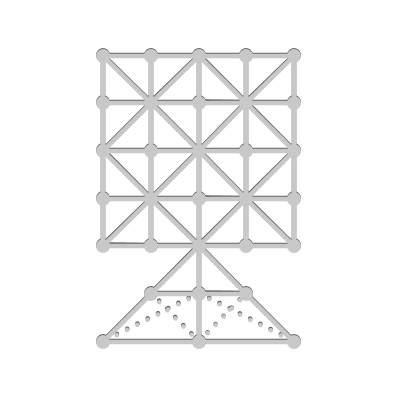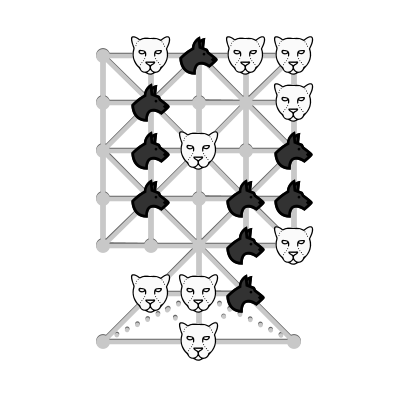 Game
See the game Cumisitha for more details.
Period(s)
Modern
Summary
Reconstructed with Ludii
Rules
The game Cumisitha is played by two players on a noshape board with nobasis tiling.
Player one plays with Jaguars. Player two plays with Dogs.
Rules for Pieces:
Dogs step adjacent.
Jaguars hop adjacent or step adjacent.
Players take turns moving.
Rules:
Add one of your pieces to the set of empty vertexs.
Aim:
If a player places 3 of their pieces in an adjacent direction line, the moving player wins.


Reconstruction Details
Combined Score: 0.846
Cultural Score: 0.892
Conceptual Score: 0.454

Geographical Score: 0.8 (~4000km)

Based on:
1. Adugo / Mato Grosso 2. Tic-Tac-Toe / Standard
Concepts
Browse all concepts for Cumisitha (Ludii 14) here.
Other Rulesets
Reconstructed rulesets
Cumisitha (Ludii 1) Reconstructed with Ludii
Cumisitha (Ludii 2) Reconstructed with Ludii
Cumisitha (Ludii 3) Reconstructed with Ludii
Cumisitha (Ludii 4) Reconstructed with Ludii
Cumisitha (Ludii 5) Reconstructed with Ludii
Cumisitha (Ludii 6) Reconstructed with Ludii
Cumisitha (Ludii 7) Reconstructed with Ludii
Cumisitha (Ludii 8) Reconstructed with Ludii
Cumisitha (Ludii 9) Reconstructed with Ludii
Cumisitha (Ludii 10) Reconstructed with Ludii
Cumisitha (Ludii 11) Reconstructed with Ludii
Cumisitha (Ludii 12) Reconstructed with Ludii
Cumisitha (Ludii 13) Reconstructed with Ludii
Cumisitha (Ludii 15) Reconstructed with Ludii
Cumisitha (Ludii 16) Reconstructed with Ludii
Cumisitha (Ludii 17) Reconstructed with Ludii
Cumisitha (Ludii 18) Reconstructed with Ludii
Cumisitha (Ludii 19) Reconstructed with Ludii
Cumisitha (Ludii 20) Reconstructed with Ludii
Cumisitha (Ludii 21) Reconstructed with Ludii
Cumisitha (Ludii 22) Reconstructed with Ludii
Cumisitha (Ludii 23) Reconstructed with Ludii
Cumisitha (Ludii 24) Reconstructed with Ludii
Cumisitha (Ludii 25) Reconstructed with Ludii
Cumisitha (Ludii 26) Reconstructed with Ludii
Cumisitha (Ludii 27) Reconstructed with Ludii
Cumisitha (Ludii 28) Reconstructed with Ludii
Cumisitha (Ludii 29) Reconstructed with Ludii
Cumisitha (Ludii 30) Reconstructed with Ludii

Identifiers
DLP.GameRulesets.3908