Unashogi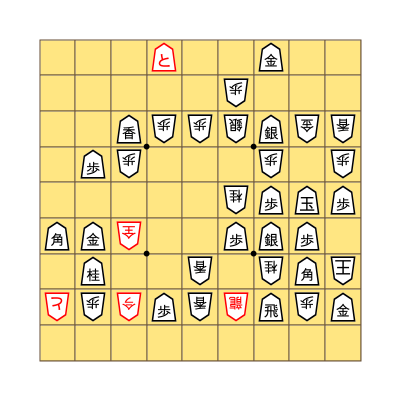 Period
Modern
Category Board, War, Replacement, Checkmate, Shogi
Description
A version of Shogi where all pieces start in reserve.
Rules
Same as standard Shogi except:
1. The board is initially empty and each player has the normal complement of 20 pieces in reserve.
2. During a turn, a player must do one of three things:
--- place a piece from the reserve on an empty square on the board
--- move a previously placed piece to an empty square
--- move a piece to a square occupied by an opposing piece, capturing it.
3. A player may not make a capture until her/his own king is on the board. Your pieces have no real power of check on the opposing king until your own king is placed. Your opponent can legally place his or her king right next to your promoted Rook if your king is still in hand. There is no additional rule governing when you must enter your king. If a piece is checking the opposing king, but the friendly king has not been placed, that is called quasi-check. A player is under no compulsion to move out of quasi-check.
Author
Creation date
1994
Ludeme Description
Concepts
Browse all concepts for Unashogi here.
Reference
Similar Games
Identifiers
DLP.Games.1420