Pyrga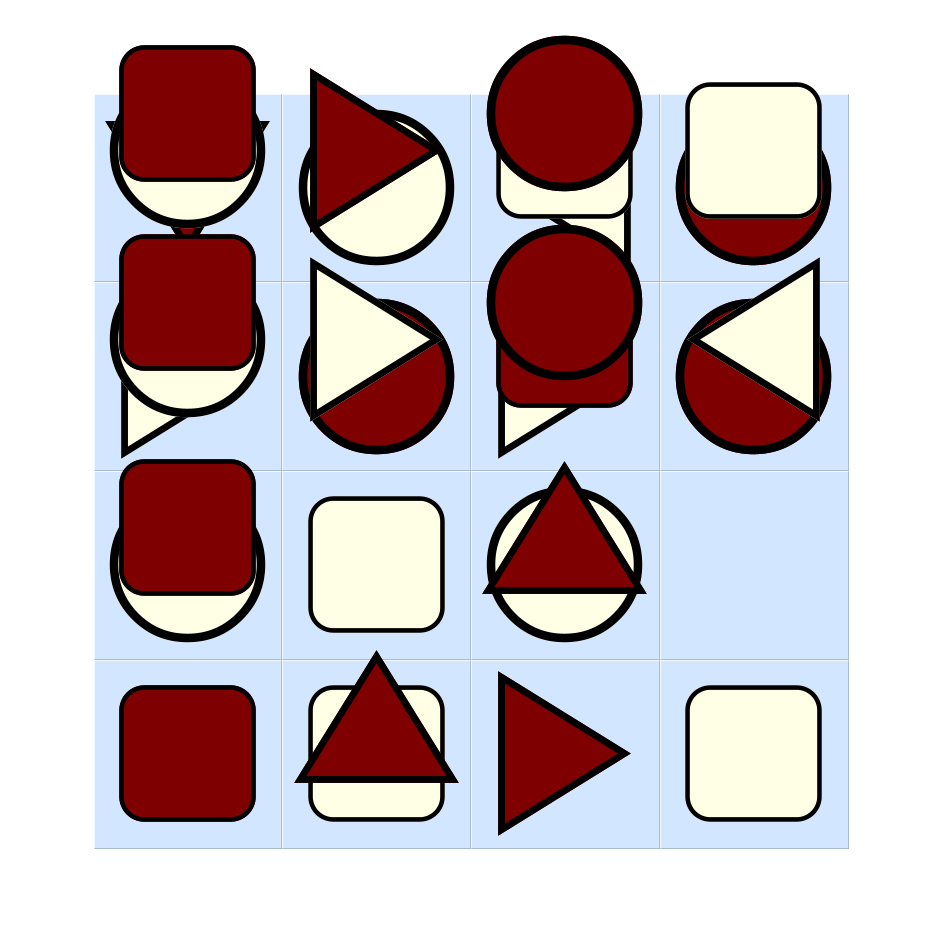 Period
Modern
Category Board, Space, Territory
Description
Pyrga is a 2 player abstract 4x4 square stacking game with a limited supply of 5 each of 3 types of pieces per player. There is no movement, nor capture. Shapes and their orientation restrict the locations of the subsequent placements. Stacks ownership is by majority. Duplicate shapes are not allowed in the same stack. Goal is ownership of 3 complete stacks, or if not possible, ownership of the majority of the tallest non-tied stacks Draws are possible.
Rules
White starts by playing any piece on any space.
Players take turns to play one of their pieces.
Each space of the board can support only one Tower. Each Tower is made of one piece of each kind (Square, Triangle, Circle), and pieces may be played in any order.
If the active player cannot play according to the last piece's rule, they may play on any empty space.
A Tower is controlled by the player with the most pieces.

SQUARES
The opponent must play in an orthogonally adjacent space.

TRIANGLES
The active player selects the orientation, it must point to at least one space.
The opponent must play in the line indicated by the Triangle.

CIRCLES
The opponent must play on the same space.

SCORES: The scores show the column counts. For example: 211 means 2 Towers, 1 controlled pair and 1 singleton

GAME END
The first player to control 3 completed Towers wins (i.e. a score of 300+).
If the active player has no possible moves the game ends with tiebreaks: most completed towers, or most two-piece towers, or most one-piece towers.
Author
Publisher
Creation date
2014
Ludeme Description
Concepts
Browse all concepts for Pyrga here.
Reference
Similar Games
Identifiers
DLP.Games.1567
BGG.305723