08-01-2022, 06:21 PM (This post was last modified: 08-01-2022, 09:27 PM by Luis Bolaños.)
(03-11-2021, 06:44 PM)

Luis Bolaños Wrote: delayed suicide makes no difference with only one placement per turn.
This is actually wrong. Although delayed suicide does not change the game nearly as much as it does in Blooms, it does make a difference in positions like this: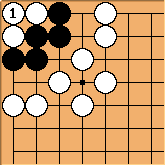 With regular suicide, after White 1, Black can play at 1 and live. With delayed suicide, White will be the first to play at 1 after the suicide, and Black will die in the corner.
The rules as currently implemented defeat the purpose of this variant, which was to avoid the need for superko while keeping the game as close to Go as possible. Could someone update the script with the correct rules (regular suicide and ko but no superko)?